CD, DVD, and Book Reviews by Sean Claes
The following CD, DVD, and Book reviews are arranged in alphabetical order.
Reviews from: 2007, 2001-2006


March 2007
All Hail - Every Wealth
Paul Pearcy - Come And Take It
Phoenix Saga - Phoenix Saga
Powderburn - Echoed In Red

February 2007
Doug Moreland - Doug Moreland
She Craves - Come Around EP

January 2007
Burden Brothers - Mercy
Maneja Beto - Accidentes De Longitud y Latitud
Dave Madden - Anything Goes
Tomorrow's Too Late - What Means Most EP

If you have a band, or if you represent a band and you would like
for me to review your work, please E-mail me at goorubif@hotmail.com
and let me know. My musical tastes run from Country to Americana to Heavy Metal
to Blues and everything in between.

Below you will find a sample of my recent CD, DVD, and Book reviews. Some have run in publications such as INsite Magazine and Texas Music Magazine.



2007 Reviews
ALL HAIL
Every Wealth


I first saw Austin's All Hail play a show last March at an XL (Austin American-Statesman) showcase. They struck me as a very different band. This six-song EP kind of proved the point. Different. They've got a sound I can't easily place. It's like Morrissey-meets-Duran Duran-meets-Panic! At The Disco.

Garrett Loontjer's vocals are a commanding whisper as he navigates his way through the tracks. It seems the music has been melded around his unique voice, which has a totally unassuming quality to it. Just when you expect a scream, you get a softer turn.

A standout track on Every Wealth is "James." It's got a slow building groove that creeps throughout the track. "You arm yourself for war, with a cross that is not yours."

JP Bartonico's keyboards play a prominent role throughout the EP, but are showcased well in "Triumphant." I get a Breakfast Club musical moment with "Notice" and "Yours To Lose" sounds like a stadium rock song.

I recommend you look All Hail up (allhail.net) and catch a show. Perhaps pick Every Wealth up.


BURDEN BROTHERS
Mercy
Kirtland Records

When you take one part Toadies and one part Rev. Horton Heat, you get a Texas rock supergroup. Namely... you get Dallas' Burden Brothers. These guys have had their taste of fame with their previous projects so they are now in it to make great music they enjoy... and it shows in Mercy.

After a slightly eerie first track, "It's Time," the album kicks into full-force with "Shine." Current single, "Everybody is Easy," is my favorite track on the album... even before I knew it was the single. The metal-grittiness of "I Am A Cancer" can get the most hardcore fan throw the goat. The acoustical "In My Sky" proves that a rock band can write a power-ballad that doesn't compromise their musical integrity.

Young bands who are looking for a way to combine scream/sing/rock/energy should buy this album and use it as a handbook. Hopefully they'll play Austin before they hit the road in February with Breaking Benjamin. You can look them up at theburdenbrothers.com.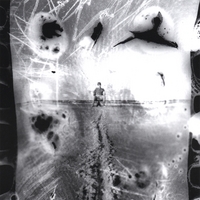 DAVE MADDEN
Anything Goes


Singer-songwriter Dave Madden released his Anything Goes in mid-October. Upon first listen I was impressed with his style, which differs from a lot of the local faire as it's very radio friendly and is more pop than rock.

The twelve tracks meld well together and really there isn't a filler on the disc. The songs, penned by Madden, are as interesting as the intricate rhythms and beats that surround them. Songs like "Accountable" and "Push & Pull" have really interesting lyrical turns while and songs like "Sing" and "Boundraries" seem to take a page from the John Mayer playbook.

A stand-out track to me is "Photographs." Like many of the songs on the album it takes a slice of Madden's life and puts it on display in rhyme and meter...and not always the prettiest slice. "Everything you hear was bought for you with someone else's pain. Yes, time can make it clean but nothing stains like memories."

If you haven't already, you should consider dropping by Waterloo Records and picking up Anything Goes. Check davemaddenmusic.com/ for show information.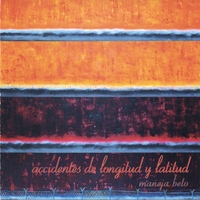 MANEJA BETO
Accidentes De Longitud y Latitud


This CD was on the top of my pile "to review" for a few months. I've listened to this one for a while but it's one of those CDs that you can't just sit down and write a review to... like the band itself, reviewing Maneja Beto is a little more complicated. But, as the year ended and another begun I felt I owed it to these guys to write a review... so here goes.

Accidentes De Longitud y Latitud marks the second release from this five piece band that terms themselves as Progressive Latin (at least on MySpace). What they present on this disc are 14 great tracks that span a good number of genres - conjunto, pop, rock, funk, reggae, and tejano. All of the songs are in Spanish but, if you don't know Spanish, don't let that stop you from picking this one up. You'd be robbing yourself of some great local music.

The album kicks off, quite literally, with the stomp of "Entrudo." It carries with some great tracks like the danceable "Cumbia De Las Bombas" and the sweet pop-friendly "Hernán."

Alex Chavez's vocals make this CD completely enjoyable as he can jump from a traditional conjunto to a modern rock en espanol just as well as the band can play it.

Speaking of playing, the band sounds great with in the raw sounds of "El Gusto" as well as the more tight, technical, and electronic-inspired "Adios Lula."

My favorite "traditional" song on the album is "Buenventura (Good Fortune)" which remind you "todo que queda por hecho, que lo va borrando el tiempo," segun dice la gente hay que gozar de la vida entera." This line I loosely translated to the best of my ability - "all that is certain is your time will end on earth so enjoy life."

I make it my New Years resolution to catch these guys live. You should as well. Check manejabeto.com for news.


DOUG MORELAND
Doug Moreland
Big Hat Records

It doesn't make much sense that Doug Moreland would release his sixth album as a self-titled release.... But that's the nature of the man. He seems to always take a different approach to life.

Moreland is a musician (obviously), entrepreneur (see Cattlelacs in Manchaca), and chainsaw artist (see his Bob Wills in front of the Lone Star Music store in Gruene). Also, last month, the City of Austin proclaimed January 11, 2007 Doug Moreland Day. But, this is a CD review so I'll focus on the music.

Doug Moreland is his most polished effort to date. It seems that on this release he's aced the Asleep At The Wheel school of music. Smooth Classic country music abounds from the sing-along starter "A Boy Like Me" to the hip-swaying "Honeymoonlight" right to the ending track - appropriately titled "End of the Trail."He's also got his signature silly song, "The Beer Song," where he suds-up Johnny Cash's "I've Been Everywhere."

A stand-out song on the album is "Home To Me." It's a bit of a sappy love song, and emotionally he sings it spot-on. "There's no place like home / There's no place I'd rather be / In your arms is home to me."

The album looks and sounds great. I actually miss a few of the imperfections of the previous efforts, namely his toast. For those who know, every album Moreland has put out in the past has had at least one toast on it. That is my only complaint. I guess I'll just have to see him live, buy him a beer, and request one.

Find more information about Moreland at dougmoreland.com or catch the band live on February 15 at Saxon Pub or February 17 opening for Aaron Watson at Midnight Rodeo.


PAUL PEARCY
Come And Take It


When I saw that longtime Terri Hendrix drummer Paul Pearcy was releasing an album of his own... I thought "wonder who he's got singing." When I saw it was him I thought "Crap... I like the guy, too... man this is going to be hard to listen to."

I was going on the stereotypical thought that when sidemen decide to cut an album it is usually a self-service pile of steaming crap. But for every twenty Tommy Lees, there's a Eric Clapton, and I should have known that Paul Pearcy would be the exception to the rule.

It's with an unassuming voice that is actually quite solid in a Ray Wylie Hubbard vein that Pearcy presents his first solo. Come And Take It begins with "Psychobabylon" a hilariously accurate look at life. "Little Wheel" is a poetic look at the life of a sideman. The lone cover-track on the album is a well-placed Townes Van Zandt track, "To Live's To Fly."

Come And Take It has a few songs that jump off the deep-end of the spectrum. These are actually my favorites. Totally different from anything I would ever expect from Pearcy. "Anasazi," "Houseboats and Chinese Lanterns," and "Damage Alley are a few of tthese.

"Great Big World" is likely my favorite song on the disc (Although I can't get enough of "Psychobabylon" either) as it includes fantastic lines such as: "Right brain, left brain.. I don't know mister. It all adds up to half a mind." And "If I'd have known, I'd sidestepped the question."

These are some cool Americana tunes. I'd almost consider them "Acid Americana" as this ain't your fathers Americana. Check out paulpearcy.com for more information, or head on out to Artz Rib House (which you can read about in our Food section) and witness this show on March 15.


PHOENIX SAGA
S/T


The self-titled debut release from Austin's Phoenix Saga has made it's way to my hands. When Ipopped it into my laptop to listen I got was probably the most raw CD I've listened to in a long time.

Their style seems to jump from a 90s Toadies sound ("Can You Believe") to a Smashing Pumpkins feel ("Covenant") rocking folk version of Tool ("Last Page").

Lead vocalist/ guitarist Jose Alba has the ability to reach a great high-register and that provides for some great harmonics. Along with bassist Sean Ellison and Drummer Joe Kraft this three piece is able to create a great sound.

They show no fear of the wa-wa pedal in "Cardigan," probably the biggest rocker on the CD. "I'm going to make you feel just like you're losing control. / Don't mind the troubles baby, let the good times roll."

The album jumps back and forth from acoustic to electric guitar, and it all fits. They could use a bit more polishing and a little more quality production, but it's about as strong of a debut CD as I've heard.

I've not yet seen thee guys in concert, but I'll be rectifying that this month when I head out to the Austin Indie Alliance March Music Madness show at the Dizzy Rooster on March 16 where they're playing at an early 6:30p.m. time slot. Come join me. Check out myspace.com/phoenixsaga for more info.

On a side note, judging from their MySpace page, I don't think I'd be too wrong to assume that their name comes from a late-1970s X-Men comic book.


POWDERBURN
Echoed In Red


I have a thing against EPs. I can't stand them (For the record this is the second I review in this issue). They work for a "sell at a show" aspect if you're just beginning, but as a rule, a band is shirking their duties if you only release 1/2 an album. That's just my opinion. But, Powderburn gets a pass on this because their EP Echoed In Red also includes a DVD. Good save.

The album is full-throttle hard rock. Yes, it's only six songs long and comes in at under 20 minutes... but those are 1,200 captivating seconds.

Lead vocalist Ken Lockman screams with the best of them, and although he isn't the most spot-on singer, he more than makes up with it in intensity. I think my favorite track of his is "Perfect Line." Lyrically it's my favorite. "Ignore me, destroy me / fight the thoughts in your head / Erase me, Eject me / and leave me lying for dead."

Guitarist Josh Klayman drives the songs with ease, and his solo in "Here's To The Time" kicks some serious ass.

Bassist Greg Enkler and drummer Patrick Swift shine on the final track "Here and After."

The DVD features videos for "A Bloodstained Memory," "Perfect Line," and "Here and After." It also includes a little documentary about the making of the EP. Mercenary Mediums, who created the DVD, did a good job on the production. It looks more professional then amateur. Would I have preferred a full-length album to the DVD? If given the choice... I'd like both.

That said, this is a strong six-shooter for Powderburn. I recommend you heading to one of their shows in Austin this month and picking it up. They play on 3/11 at The Wave Bar and 3/14 at The Spill. Check powderburn.net for more information on the band.


SHE CRAVES
Come Around


She Craves is a new band that is made up of some relative mainstays on the Austin scene. So, it's no surprise that their first release, Come Around, sounds nothing like a freshman try and everything like a seasoned pro.

Come Around, a four song EP is the recorded introduction to She Craves featuring the powerful yet sultry lead vocals of Christine Ely (Bag 100), guitar-work of Matt Cole (ZooSeventeen), and the rhythm section of drummer Ben Mills (Nooner, Bag 100) and bassist Tim Brown (Nooner).

It kicks off with "Already Gone" that comes in with a chugga-chugga powerfulness from Cole before Ely commands the attention befitting a ballsy lead vocalist. The power continues through "Need Me" and "Don't Say."

The last track, "Broken" does away with all formalities and shoots right the point. "Don't you think it's been too long / since you and I, got it on / trying to forget about / this mess we've made."

The band has had three "practice sessions" to get ready to play their hometown for the first time (Houston, Dallas, and San Antonio)... so come out to Stubbs on February 3, 2007 for INsite Night and see them live in Austin for the first time. It's also their EP release party... and I'm calling it my birthday party, so come celebrate with me. Check myspace.com/shecraves for more information.


TOMORROW'S TOO LATE
What Means The Most EP


In December, I was invited by Raw Deal Productions to judge the finals of their Battle of the Bands at Red Eyed Fly. Six bands played and I was fairly impressed. Tomorrow's Too Late ended up being runners-up (winners The Still Life have a shot in INsite Hindsite by the way) and they were the only band to hand me a CD at the end of the night so I thought I'd review it.

All-in-all I found their live show to be fairly well reflective of the five-song What Means The Most EP, which was recorded almost a year ago when the band was merely three months old. Musically, it was on-spot with a straight up rock with a slight punk influence.

Tomorrow's Too Late seem to draw musically from some good sources. "Aesthetic For The Ages" kicks the album off with a very Fall Out Boy rocker. "A Book of Phrases" has a slight The Cure sound to it.

"It Starts Today" is probably my favorite track on the EP. From the entrancing guitarwork to the lyrics, it's pretty solid. "I don't know much, but I do know that I'll be hearing from you soon / something like a frantic call at four in the morning / when you're locked out / and all alone."

The hardcore screaming of guitarist Billy Canino is placed well on the tracks that come out more pop-rock than hard rock on the disc (it could be pumped up a little more on the mix though). Their live show is definitely more hard rock with punk energy than is presented on this disc. The songs work well both ways.

Vocally, Jesse Vadala could use a little more work on his pipes (pitch and power) in order to carry the front-man position but the songwriting is damn good. All-in-all Tomorrow's Too Late is on their way up.

This is a young band and I'm looking forward to seeing these guys get tighter musically and better vocally. They sell this disc at their shows, so visit myspace.com/tomorrowstoolate to see where they play next.




If you would like to see my CD reviews from albums released between 2001-2005, please visit this link to my archives - CD REVIEW ARCHIVES






HOMEPAGE Click this link to go back to the homepage of SeanClaes.com